So, it's Wednesday afternoon, the middle of September, and about 90 degrees outside.  🙂
But, it's Fall Y'all!!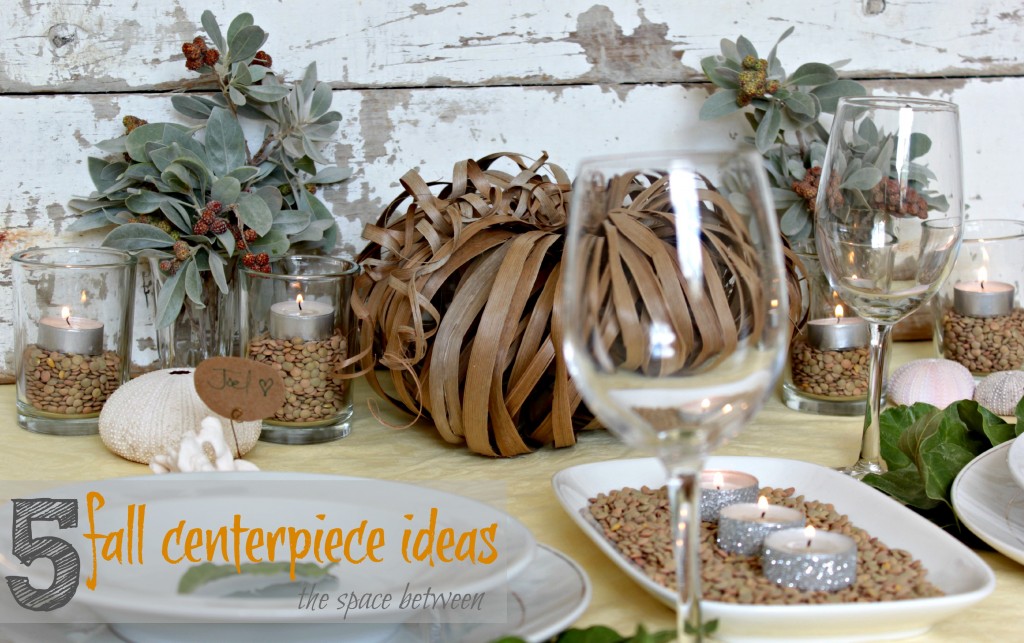 Well, at least that's what everybody keeps saying. 🙂
We've lived on the Caribbean island of Curacao for nearly 3 years now.  And I can't say that I really miss the seasons.  I don't miss bitter cold, dark winter mornings.  Darkness at 4pm. Frigid windy, rainy days.  Slippery, icy roads. Scraping off the car after a snowstorm.
I really don't miss any of that.
But man, I have always loved those first few days of fall.  The days with cool, crisp air.  When you are finally perfectly comfortable in your favorite sweater and jeans … and wool socks with Birkenstocks.  Ahhhhhh!  The memories.  🙂
But I saw a tree today, and this tree just made me feel like fall.
And I found myself doing this … creating a little tablescape with 5 fall centerpiece ideas.  Here's what I think are great elements to consider when thinking of fall centerpiece ideas.
1. Lentils – They're inexpensive, the perfect fall color and oh so versatile.  Line the bottom of a tray with them to display tea lights.  Or fill votives to various heights to group candles.  I think corn kernels would work, too.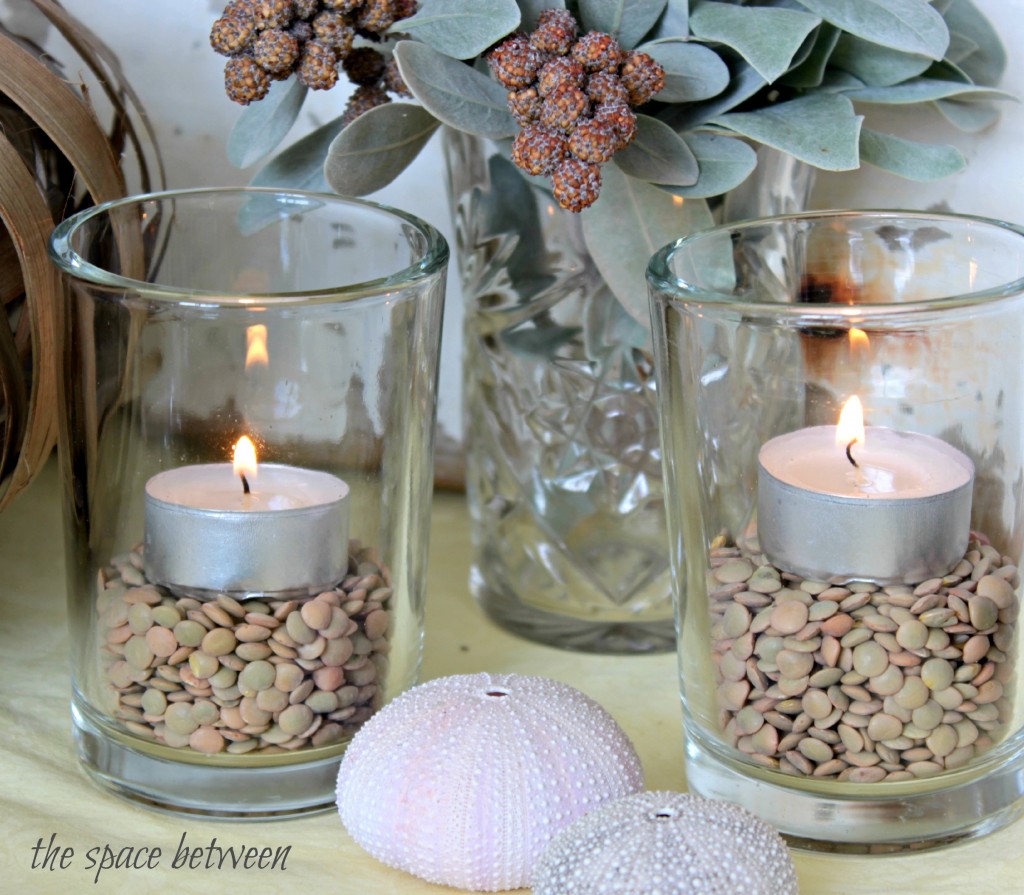 2. Beglittered Tea Lights – This would even work with the LED tea lights.  Brush on some glue or mod podge and add some bling to your centerpiece.  I had silver, but think gold or copper would be a fun glitter color for this idea.  (Full disclosure – My very creative cousin, Deanna, gave me this idea last Christmas when I declared that "glitter makes everything better".)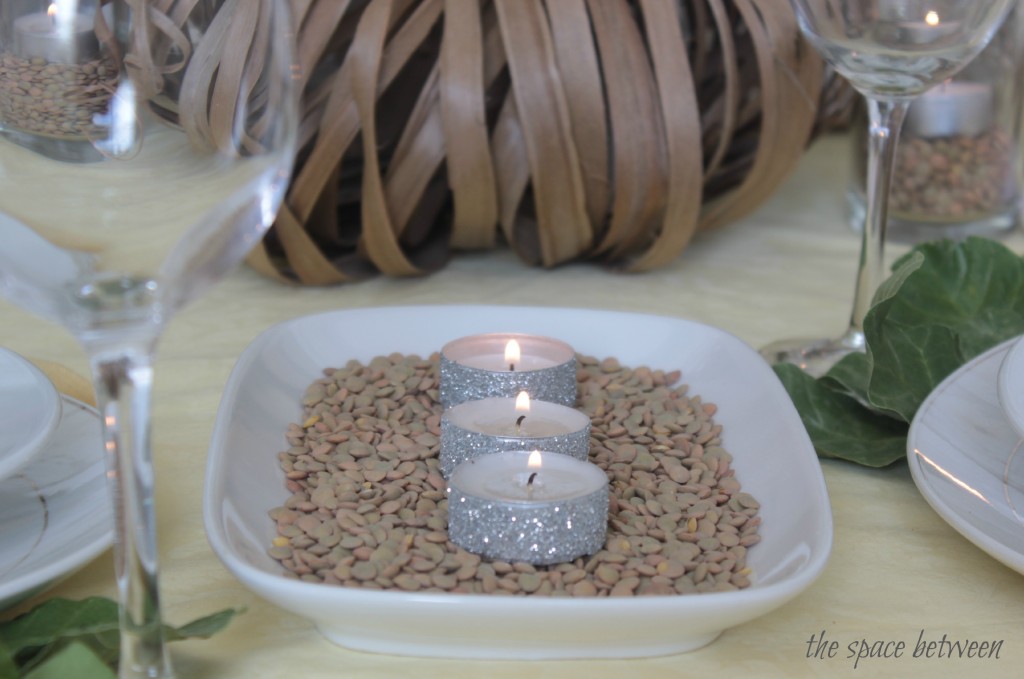 3. Leaves – Branches from that tree that reminded me of fall found their way into two cute vintage glasses.  And random leaves are the perfect addition of a little colorful, textural element.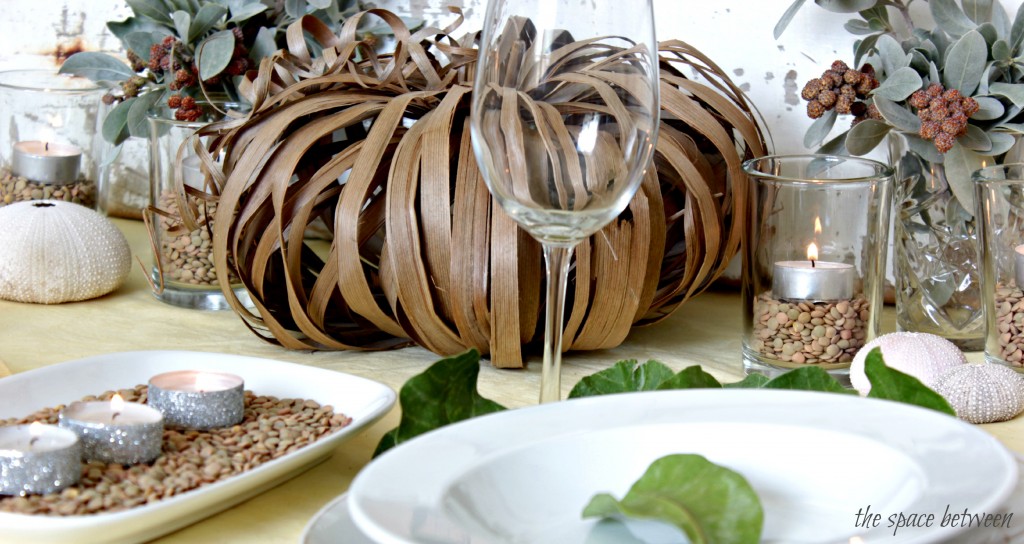 Side note – I saw these leaves on one of our regular evening walks around the neighborhood.  Grabbed a few handfuls not knowing what I was going to do with them.  So when the girls and I had a little encounter with another neighborhood dog, and I didn't have my hands free to reel the dogs in … it seems like a good idea to try to grab the leash with my arm.  Say hello to my fancy leash burn.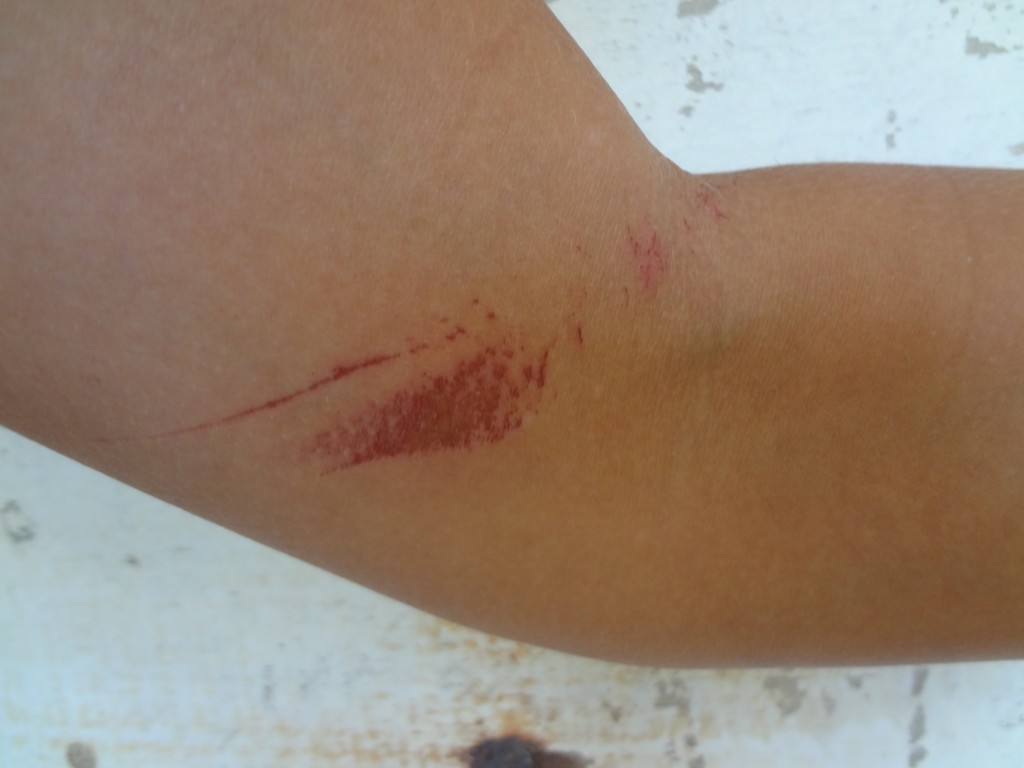 Ouch!  It didn't even occur to me to drop the leaves. #smartypants
4. Add a local touch – For me, that means sea urchins or coral or shells … something coastal.  Maybe you have pine cones or river rocks or rusty old farm tools.  Whatever you have that brings in a bit of your location will give your tablescape character and charm.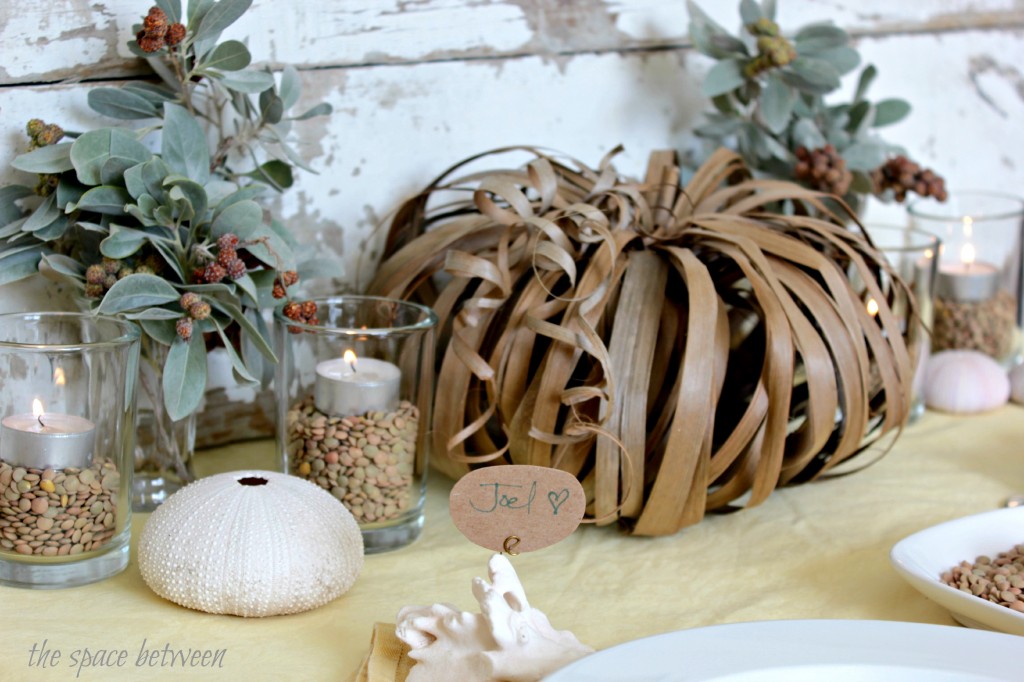 5. A little somethin' DIY – Maybe it's something your kids have made or just a little bit of 'you' to give your centerpiece a personal touch.  It doesn't have to be extravagant or fancy. It could be a palm frond pumpkin or coral name card holders.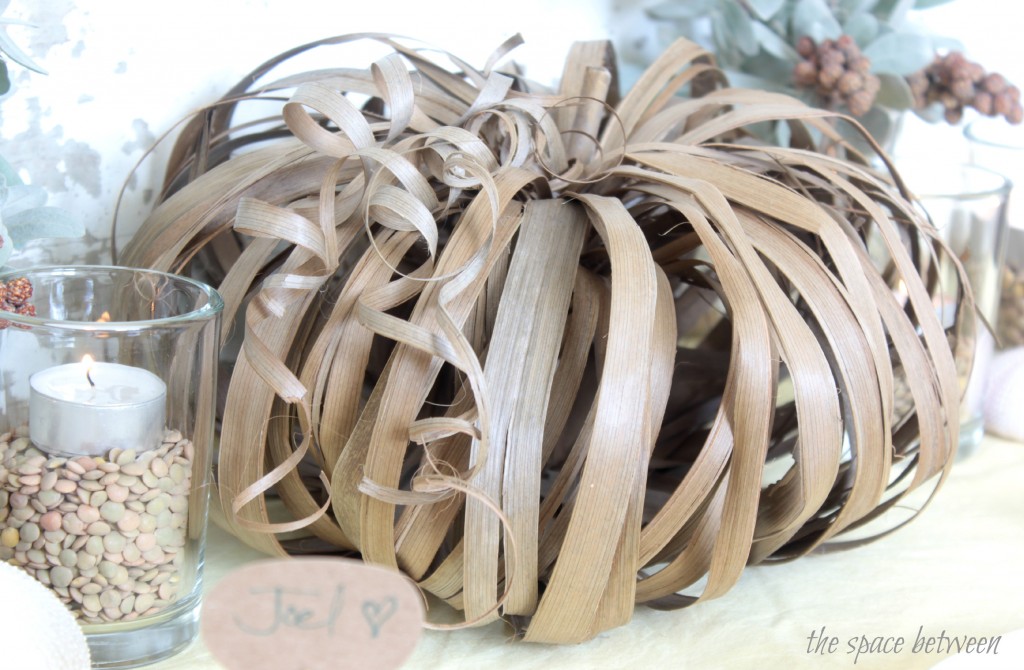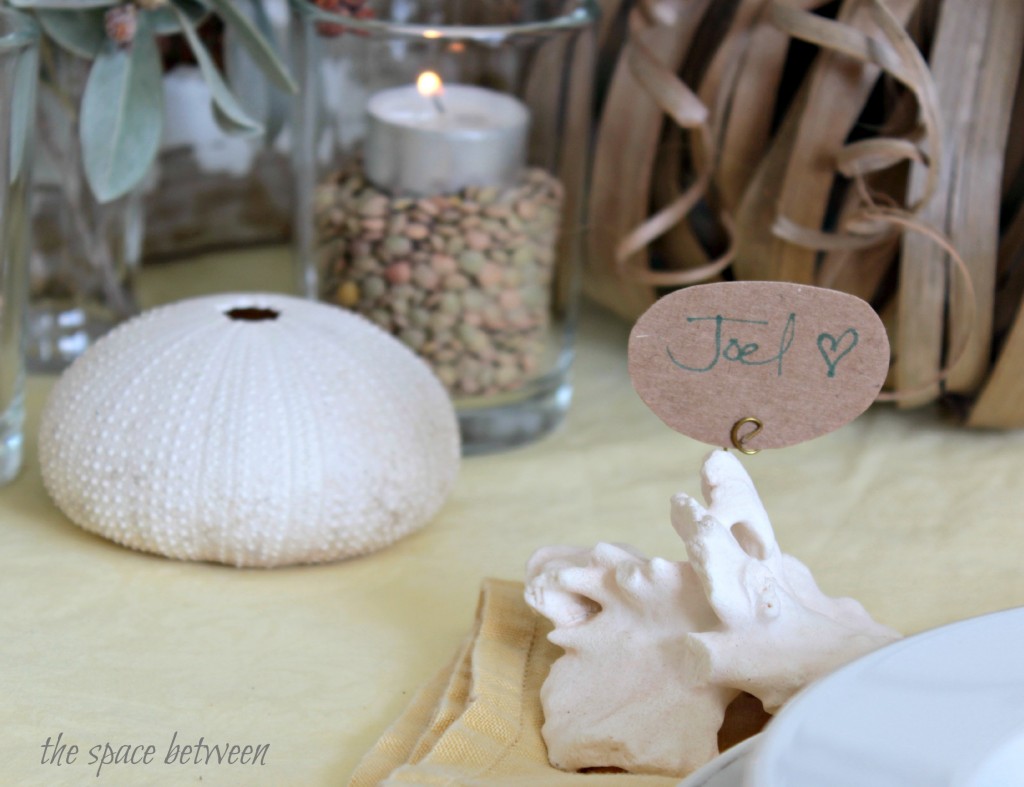 Here are the full tutorials for the palm frond pumpkin (which could probably be made with raffia or any other long leaf option) and the coral name card holders (I also use them as a casual photo display piece).
And let me know what your centerpiece tips are.  Do you like all of the natural elements, or prefer something a little different?  Do you have go to items that just always seem to work?  Or do you just eat at the coffee table?