Ok, it's official.  I have jumped on the crazy train.
(Links to every post in the 31 day series are at the end of this post.)
I really don't know what my problem is.
One might think I'm just sitting around here twiddling my thumbs with absolutely not a project in sight.
Because clearly this space is done.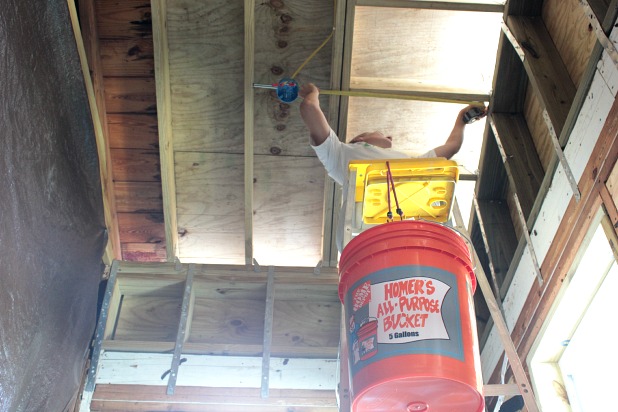 For anyone seeing this beauty for the first time, she is part of our living room, and you can read up on our best weekend ever to see why we actually do find this space beautiful.
But, for some reason I cannot get my mind off of this 31 Day challenge thing that the Nester does every October.
The gist is to write about one topic everyday for the month of October.
That's 31 days.
In a row.
Now, I wrote in my 31 things recap last year that the whole idea of writing 31 days in a row seemed silly crazy unappealing.
But for some reason this year it seems crazier intriguing.
And I've been tossing around a few topic ideas as the October 1st start date slowly approached.  All the while trying to talk myself out of wanting to participate.
A few ideas …
31 days to pull a room together – I'm just not feeling it right now, maybe because we don't really have a room ready to "pull together" yet.
Even though we do have drywall on this wall now, just no primer or paint and don't even get me started on what's happening behind the camera.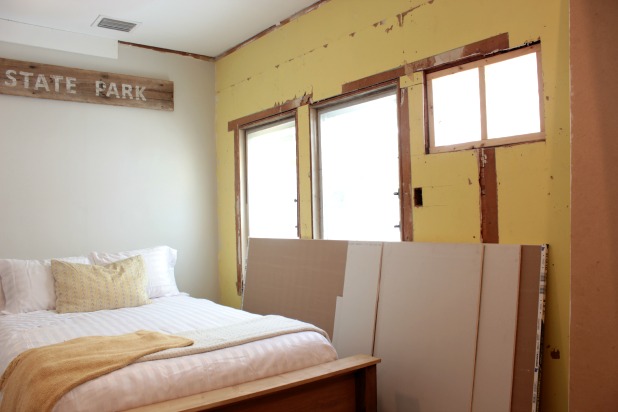 31 nearly free ways to update your space – I almost went with that one (you know I like me some free or nearly free) but since the only room that is even kind of ready for any sort of propping and prepping is the guest room I thought that'd just be too much in one room.
I could go all cerebral with something like "31 ways to stay sane during a home renovation project" and dive deep into my thoughts and feelings on a daily basis as we navigate this whole house of madness.
But seriously, just the idea of coming up with 31 ways to stay sane pretty much drove me crazy … and that irony wasn't lost of even me.  🙂
So, I looked through my ever-accumulating post drafts and a trend started to pop out.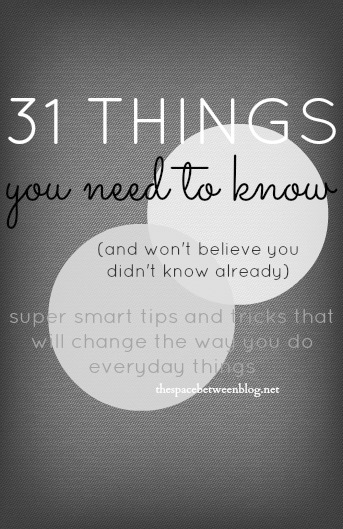 The thing is, I start a post draft so I don't forget an idea whenever I discover a neat little trick or a fun little fact or just something that we tried and ended up saying "I can't believe we didn't know about this already" or "well, that didn't really work out".
And I tell myself I'll work them into my regular posting routine over time.
And I then I just don't.  Because I am awesome.
Now, don't let me lead you to believe that I have 31 mind-blowing things at the ready just awaiting me to hit publish.
I'm looking at about 10.
But I'm also not going to make this all about home improvement, so this really is going to be 31 things you need to know about anything and everything.
And just because I find them all downright fascinating doesn't mean you're going to jaw drop at every single one.
Of course, I hope you find them all useful either in a "Oh, yeah, I totally do that and she's right, it's a life saver" or "Holy cow, I can't believe I didn't already know about this little nugget of brilliance".
Or at a minimum be entertained by the fact that these are all recent revelations to me.  🙂
I'm going to post this little 31 day series in the evening.  Every day during the month of October.  The posts should be pretty short and to the point.  But since I don't have them all already stored in my little brain I'm hoping this just evolves relatively organically throughout the month.
Or, who knows, it could be a total bust.
But for some odd reason I'm feeling up for the challenge.  So I hope you all think it's a good idea, too.  🙂
And the plan is to keep up with my regular couple of posts a week house updates as well.  I've got all the details on the rest of the work on the exterior trim and siding I did with my dad coming your way (By "I've got" I mean in my brain and I need to get it worked into a post with sized pictures and hopefully witty banter.) and a little project I snuck in while Joel was out of town over the weekend (RIP G'ma Max) and the funny story about why it was necessary.
And if you have any change-your-world tips, tricks or tutorials definitely let me know … I'll give you all the credit in the world if I use them as part of this series.  Because we all know I'm not getting invited to join MENSA anytime soon … and I tend to be a dumba$$.
Oh!!  And if this all doesn't seem like enough crazy already, I'm gearing up to head out on a little trip this weekend.  All I am going to tell you is that I will be test driving a hybrid car on a route that is very, very special to Joel and I.  Real-time updates will happen on Instagram (thespacebetweenblog).
And here are a few old pictures circa 1999 that might serve as a few clues.  (Oh, and those are printed pictures in a photo album, for anyone who doesn't find those kinds of things familiar.)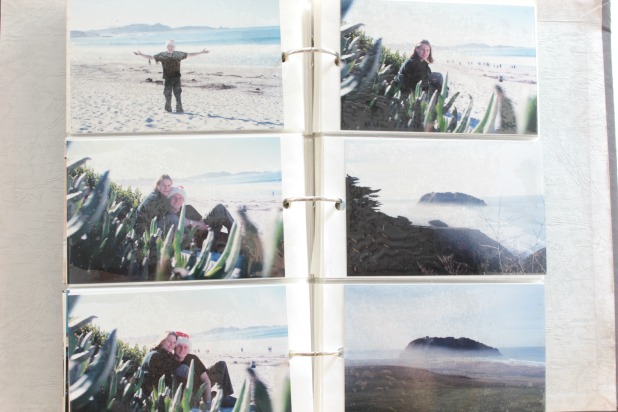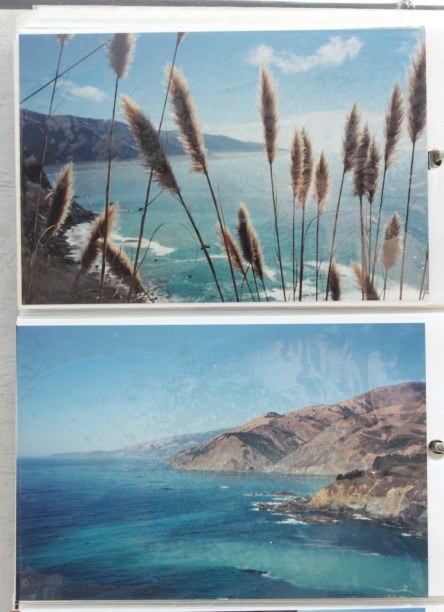 If you don't have time to check out every tip, be sure to pin this post for easy reference in the future.
Day #1 – how to clean a washing machine
Day #2 – are your light boxes small and old?
Day #3 – the best leftover pizza tip ever
Day #4 – diy swiffer cloths
Day #5 – the difference between dogs and cats
Day #6 – my favorite and most used organization trick
Day #7 – move heavy furniture with the strength of wonder woman
Day #8 – avoid one of the most annoying things that happens during DIY
Day #9 – the ove glove
Day #10 – the tip that wasn't
Day #11 – remove sticky residue with something in your pantry (and many comments explaining that the word pantry without the r means something different entirely, oops!)
Day #12 – deal of the day email
Day #13 – Steve Jobs Stanford commencement
Day #14 – how to fake a bigger bed
Day #15 – the trick to an authentic looking aged paint technique
Day #16 – did you know cabbage is a superfood?
Day #17 – 3 different things to do with white glue
Day #18 – the secret to getting your outlets to sit flush with your outlet cover (and a few unintended nut puns)  Update:  this one is surprisingly controversial
Day #19 – they call me the tortuga (a long overdue house status update more than a tip)
Day #20 – impromptu off day, tip … everyone needs an off day every once in a while  🙂
Day #21 –  where to hide your money on vacation
Day #22 –  how to fold a fitted sheet like a pro, a video tutorial
Day #23 – the secret trick to removing sap from hands and clothes
Day #24 – keep your paint and fabric colors with you at all times
Day #25 – the trick to perfect looking outlet holes Update: this one is surprisingly popular
Day #26 – that other DIY lesson learned the hard way
Day #27 –  the easiest way to shuck corn ever!
Day #28 –  genius flea market and estate sale tips
Day #29 – misery really does love company, much more uplifting than the title suggests
Day #30 – does that how to cut a bottle with a string trick really work?
Day #31 – the last lecture
Thanks for checking them all out!  A simple pin on Pinterest for any post that you find useful will help spread the word which helps keep these archives alive. 🙂