put·ter3
ˈpətər/
verb
gerund or present participle: puttering
1.

occupy oneself in a desultory but pleasant manner, doing a number of small tasks or not concentrating on anything particular.
Puttering.
That's what I've been up to after dark these days.
I had forgotten how much I love to just arrange things and move them around and try them here and shift them there and sit and see how it makes me feel while I listen to a song on The Voice. Or get sucked in to the Blacklist … are you watching that show?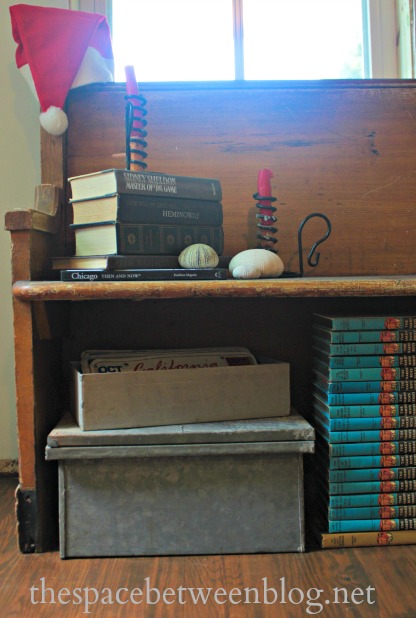 Our old license plates (please don't tell the state of California, Indiana or Maryland) in a metal bin I found on the street, set atop a galvanized box from our shed, beside the beloved Hardy Boys books from Joel's childhood.
All under our $12 auction church pew with a few more thrifted books, beach found sea urchins and neat candle holders that were a long ago Christmas gift from a college roommate.
**Full disclosure – I took all of these pictures late at night and they were so incredibly bad I retook them all during the day for the sake of protecting your eyes and preventing your headache.**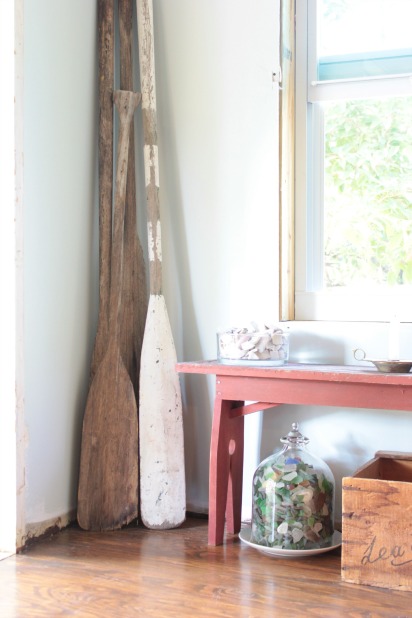 Four old oars right inside our front door.  Two found in the garage of our house in Maryland and two found in a construction dumpster in our neighborhood here.  Silly neighbors!
Seaglass under a cloche under a bench next to an old Lea and Perrins crate with more tumbled glass in a clear bowl on top.
That little display needs some help but I'm just not sure what. I'm thinking that red bench might look good in light gray or white or cream … maybe.  :)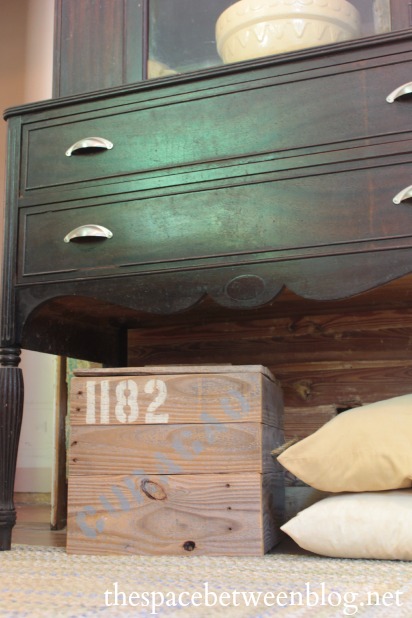 The pallet crate next to a few pillows and under our hutch matches our new rug like it was planned that way. The hutch is a $40 auction find that Joel never let's me forget I didn't really want. But I have loved since the minute we brought her home.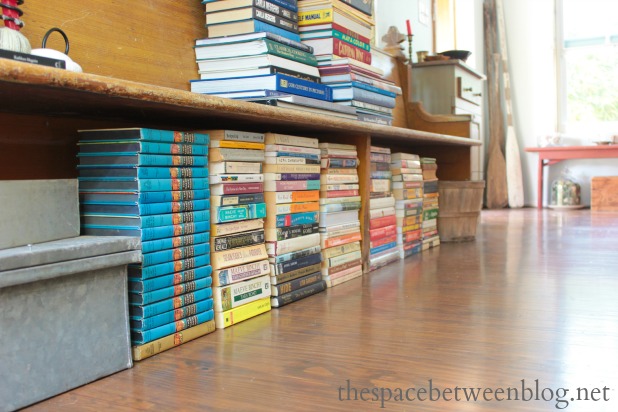 I've shifted and shuffled and rearranged these stacks of books more times than is normal for any one person.
Three simple pine cones with bells in our one pallet slat trough on the bench just inside the front door give our guests a Welcome.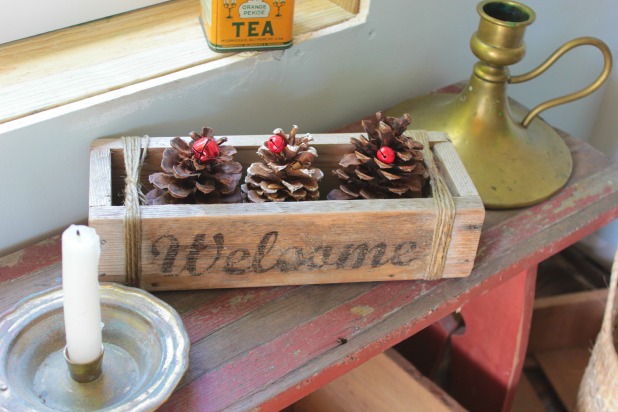 I found myself over-decorating my driftwood Christmas tree from Curacao with all of our traditional ornaments one night and posted this picture on Instagram (@thespacebetweenblog).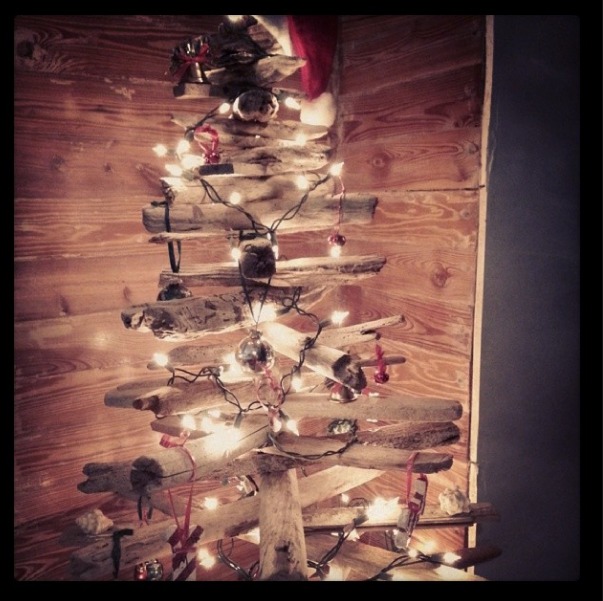 And then I woke the next morning to remember that I prefer the rustic, simple nature of the tree with just some seashells, sea urchins and seaglass.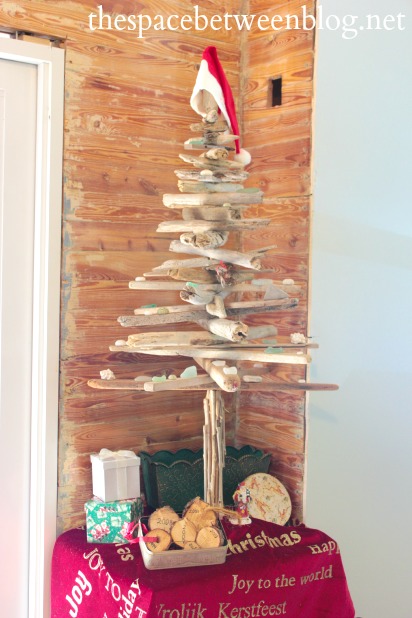 You're going to have to do what I do and just look past the lack of trim for now … I'm busy puttering.  :)
But I did keep all of the slices of tree trunks we've cut from every Christmas tree Joel and I have had over the years in a little tin I found in our shed here.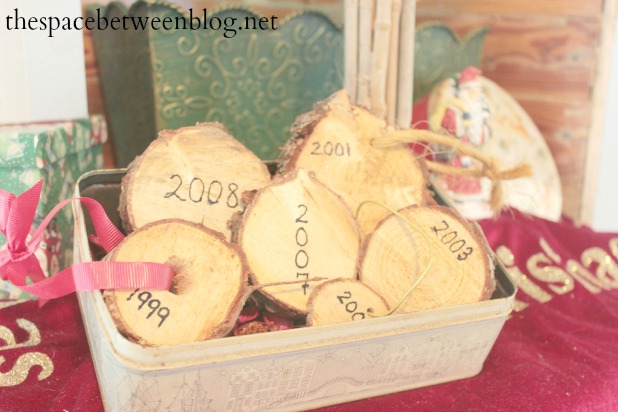 Nope, we haven't actually gotten a tree every year.  That's just how we roll.  And somehow we still manage to enjoy the holiday.  ;)
Somewhere along the lines more Christmas cheer creeped on the board and batten wall along with another stray piece of driftwood to hold up Joel's stocking.  ;)
I really have no idea what to put in the two outside sections above the board and batten wall, if anything, long-term.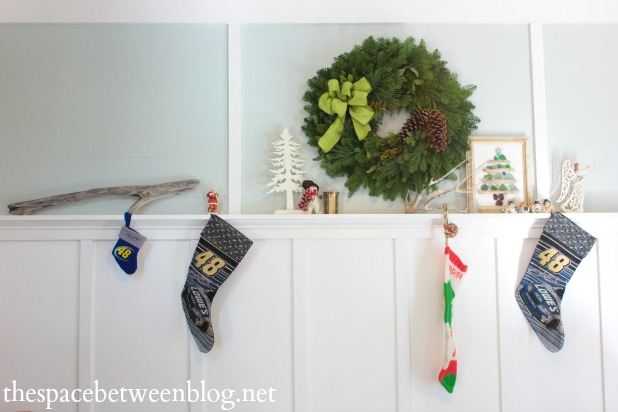 That's what I find myself gravitating towards.  Just puttering, really.  Reminding myself of what we have, seeing what things I really want to keep around and close at hand.
With many donation trips to Goodwill in between.
I forgot how much fun a living room can be.  :)
And just how far even the tiniest bit of holiday cheer can spread.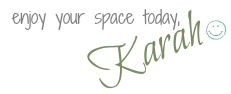 Do you putter?  My mom does it all the time, too.  Just add it to the list of things I can blame her for.
Don't miss a minute of our Key West conch home renovation. Just enter your email address here for free updates right to your inbox! :-)
... let's stay connected ...