Well, technically by "movie" I mean 2 minute video and by "star" I mean E lister.
Or maybe Z lister.
How many movie star list hierarchies are there?
I've only heard of D listers.
So I went with E lister.
But now that seems a little presumptuous.
Like, "third guy from the right in movie theater scene", as he would be described in the credits, which list is he on?
And I'm 26 lists below that.  :)
Anyway, I don't ever post on Sundays.  But I was offered a paid gig to make a little short video about Resolve Pre-Treat.  And a good stain pre-treat is a laundry life saver so I said heck yeah.
And because the embarrassment of my video being on the Resolve website isn't quite enough, I thought you might be up for a good Sunday chuckle at my expense.
We're friends like that.  :)

This is a sponsored video for Resolve that I have been compensated for & received free product for through Burst Media.  I have provided parental contest for my child being in this video.
Spoiler Alert – I don't have kids and there are no kids in the video, that's just legal mumbo jumbo I have to include where ever I share the video. #ResolveMyStain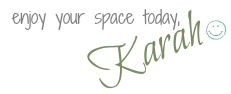 Don't miss a minute of our Key West conch home renovation. Just enter your email address here for free updates right to your inbox! :-)
... let's stay connected ...