Because I begged and pleaded and told them about my secret crush on them, Kilz is my primer sponsor for our Key West conch home remodel.  I love them to pieces and am excited to share with you why.  I will never write a word about their products I don't believe 100%.  You can find my full disclosure here.
Confession time.
I'll go first.
We bought our first house in 2001.  A cute, cute little brick ranch in Indianapolis, Indiana. That had been owned and lived in for over forty years by the same old couple … who were smokers.
The house was literally stained with smoke.  There were squares on the wall where pictures had hung and the ceilings were more of an ashy grey than the white they had started out.
It sounds so prehistoric now, but we hadn't jumped on the digital camera bandwagon yet so we don't have any digital photo evidence and I can't even find our old photo albums to try to scan some pics for you.  (I can't imagine why.)  But here's the outside, hiding all of that smoke stain and stank inside.


Cute, right?!?!
Well, what is not cute is my personality after painting the same ceiling 5 times.
Yep.  It was our first house, and we were young and ambitious and bought a little bit of a fixer upper, in the form of all-smoke-stained-surfaces-needed-help.
And we immediately got busy painting.  And after one coat thought "well this is why people do two coats of paint".
And when we could still see the stains after two coats thought "well I have heard of people needing three coats".
And after three coats I was cursing myself for buying the cheaper option of ceiling paint since we were now convinced the trouble was the paint.
And after 4 coats we almost gave up DIY forever.  Not really.
But after 5 coats I finally decided to head out to the home improvement store and commiserate with the paint guy.
Remember, this was 2001 … we didn't even have a computer at home then.  (We did get a desktop the next year that sounded like an airplane was taking off every time we turned it on.  True story.)
So, I took my now-bad attitude to the home improvement store to whine to the paint guy about the awful paint we had bought.
And all nonchalant, like what he was saying was known by the least intelligent person to walk the planet, he said …
 … "what kind of primer did you use?".
I'm sorry, what?!?!  I don't know what this primer thing is you're talking about.
I'm trying to talk to you about the bad paint I bought.
Long story short, I have had a love affair with Kilz primer ever since.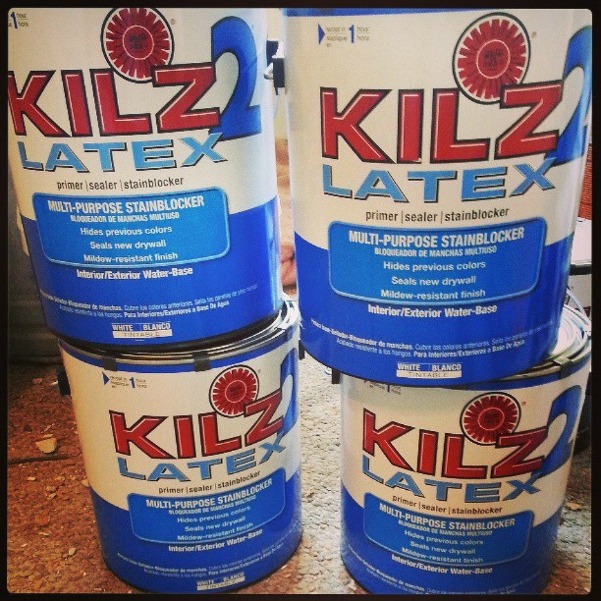 It's hard to explain how primer can be so different from paint and have such an importance, all those cans just look-alike in the paint aisle, right?
No matter what type of a paint project I'm doing, those genius people at Kilz have already developed a primer formula to fit my needs … and yours.  Whether its stain blocking (buh bye smoke stains), odor controlling or adhesion to glossy surfaces, Kilz has just the right primer product for you.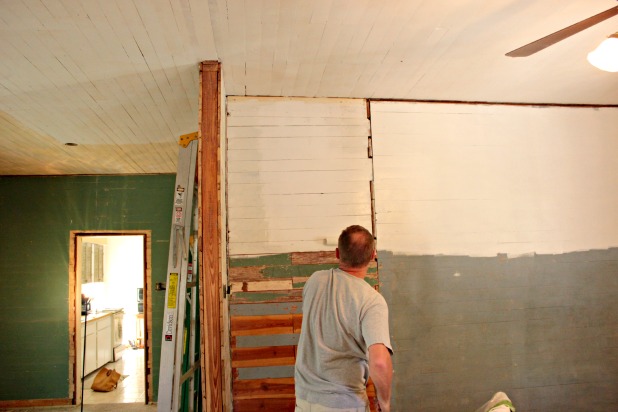 See how you can't even see the blue paint under the primer?  And on the ceiling on the left there … no more yellow ceiling in this house!
And yes, there is a reason he only primed the top third of that wall … more to come on that soon.  Can you say exciting project that may have gotten me a new table saw!?!?!
Maybe this lesson learned the hard way is why we so love the primer stage of a remodel.  It is like creating that fresh, clean slate on which we can create our own vision.
Primer before painting, and Kilz is definitely my primer of choice … I just hope you will learn from our newbie DIY mistake.  :)
Update:  See what we decided to do for our first finished wall (hint hint, high board and batten baby!).
Now it's your turn, do you have a DIY lesson learned the hard way?  Do you have any products that you swear by?  Are you doing any priming of your own these days, creating your own clean slate?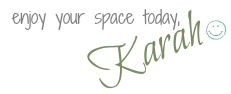 Don't miss a minute of our Key West conch home renovation. Just enter your email address here for free updates right to your inbox! :-)
... let's stay connected ...