Update:  This giveaway is now closed … winner is announced here.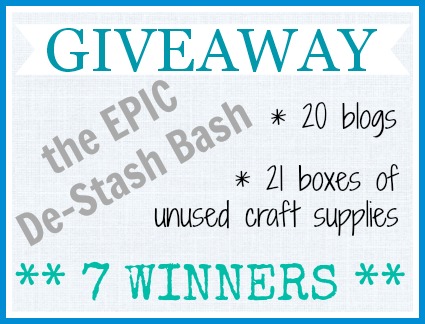 Well, look what fun we have planned for you today!!  I am SUPER excited to be partnering with 19 other amazing bloggers to bring you the EPIC De-Stash Bash Giveaway!!
Amy at A Nest For All Seasons, Charlie at Attempting Aloha, Sarah at Craft Quickies, Carissa at Creative Green Living,
Heidi, Kari, Lesley, Kelley & Jessica at Eight By Five, McKenzie at Girl Loves Glam, Malia at Yesterday on Tuesday,
Carrie at Making Lemonade, Sara at Mom Endeavors, Heidi at Mom's Crafty Space, Kari at Newlyweds on a Budget,
Vanessa at Our Thrifty Ideas, Kristen at Pearl Gateway, Mandy at Sugar Bee Crafts, Summer at Summer Scraps,
Angie at The Country Chic Cottage, Michele at The Scrap Shoppe, Karah at The Space Between, and Meredith at Wait 'Til Your Father Gets Home.
We're also joined by our friends from the newly launched site, Looksi, a carefully curated collection of crafts and DIY ideas.
All of these amazing people have offered up a box full of goodies from their unused stash of craft supplies, and SEVEN lucky readers are each going to walk away with three of these incredible goodie boxes! Be sure to click on the links above to visit all of the blogs to catch a sneak peek at what's inside some of our boxes!
What's that you say?  How is it that I have a stash of unused craft supplies while I'm living out of a hotel and pretty much everything I own, save a weeks worth of clothes and my laptop, is in storage? Well surprise, surprise … in the short time we've lived back in the good old USA I've realized just how much I was missing out on living on a tiny Caribbean island.  I'm talking sponsor materials and craft store clearance finds!! They seem to be multiplying by the day.  And our little hotel room is running out of space, so you can be the big winner here!
Just complete the rafflecopter entry form below for your chance to win THREE different boxes of unused craft supplies from some of your favorite craft blogs.  There will be SEVEN winners total.
Now for the fine print.
Prize:  3 boxes of unused craft supplies

Total Number of Winners:  Seven (7)

Entries: See rafflecopter form for all of the details.

Closing Time: Midnight, February 18th

Eligibility:  Must have a mailing address in the USA to qualify  (see, tiny Caribbean island people are missing out once again)  ;)

Just Because:  I have not been compensated in any way for this giveaway.
RAFFLECOPTER:
a Rafflecopter giveaway
Good Luck!!!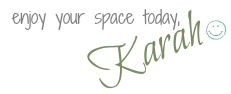 Want to receive our posts in your inbox? Just enter your email address here! :-)
... let's stay connected ...