Happy Friday!! How was your week?
I feel like I came back to the island from our trip to the US 'swinging', so to speak. Just ready to get things in order and become more productive and efficient in everything. And get focused on my personal priorities … which definitely includes learning the ins and outs of our new camera!!
So I can take better pictures of our current favorite project, our new coffee table that I made from an old door I pulled out of a dumpster.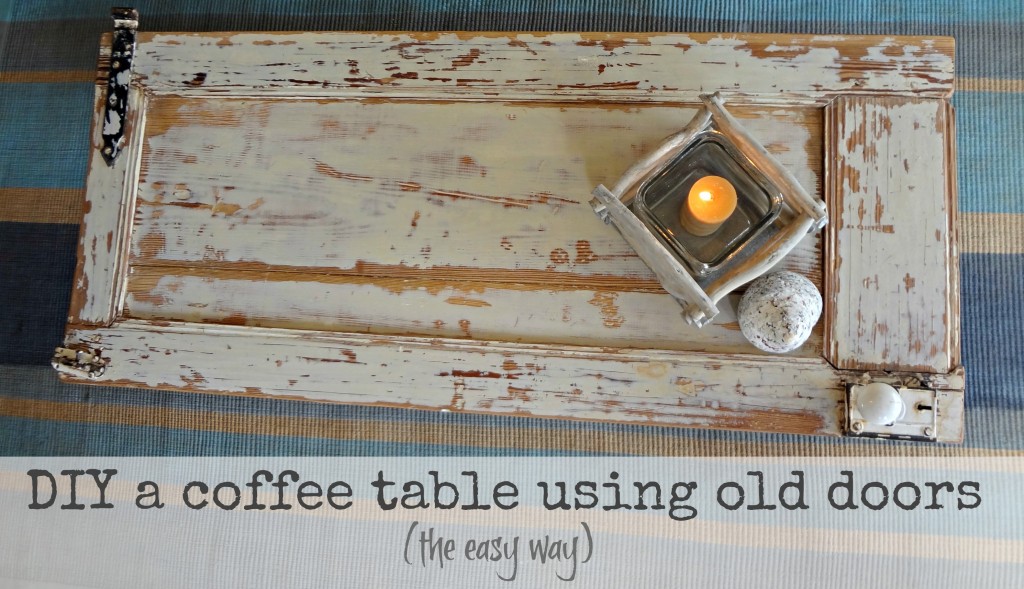 But before I totally abandon the project that has been 'updating our living room' in lieu of a little much needed life/house/blog organization, I want to show you how to turn old doors into a coffee table, the easy way.
I went into all of the details about how I work my magic booty off to scrape, strip and sand old wood here.
Let's back up just one minute here, so I can explain that I actually chose the part of the doors that I wanted for the coffee table and cut it down before I got to the scraping. Why work on something I'm not going to use, right?!?
You can see from that before picture what I was working with, and I knew that I wanted as much of the hardware as possible to end up on my coffee table. So, using a triangle and straight edge I marked my cut line and used my trusty handsaw to cut my door to size. We have a Superior XT Ergo hand saw similar to this one. My dad gave it to me about 10 years ago, it's awesome.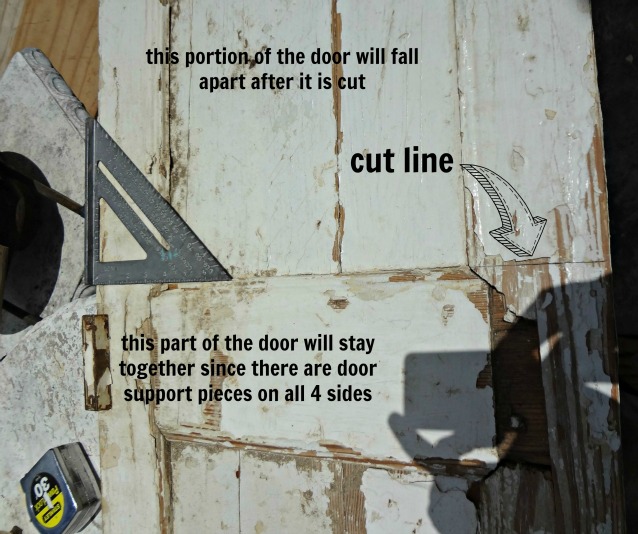 Yes, I could have just cut the doors in half and then made two identical tables with the two doors, but I would have lost the door knob and other hardware in my finished products. AND, I would have needed to come up with other an alternate wood choice for the legs of my coffee table and deal with matching the finish, yada yada.
And I didn't need two coffee tables … so I did what I did. :)
Since I went with this strategy, I was able to use wood from the other end of the doors as the legs of my coffee table.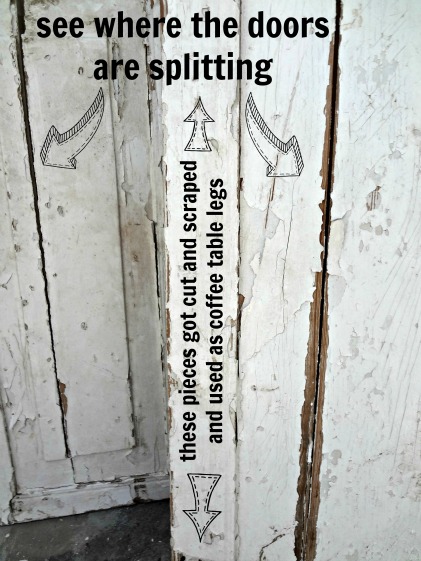 I was able to pull the legs apart from the already-falling-apart-now-very-depressing-looking-part-of-an-old-door.
It gets better looking, I promise!
So, just to recap, I have not used any power tools yet. Well, an electric sander is a power tool, I guess. But seriously, this project was so technically easy.
The scraping is a bit of labor, but it's not difficult per se. For all of the scraping I use the 6-in-one tool and for all electric sanding I use this sander.
Once the legs were cut to size (I just measured the height of my couch, figured in the width of the doors and the 2 inches the casters would add … yeah, I added casters to the bottom, too.) and scraped and sanded to my liking I was ready to assemble my coffee table.**
**I bought my casters here in Curacao, but these are the exact same casters. I bought 2 with a swivel and two that just roll straight.
From here I think it helps to see a few steps ahead to make sense of these first assembly steps.
So, here is what the coffee table looked like once I had the 4 legs and casters attached to the bottom door panel of the coffee table.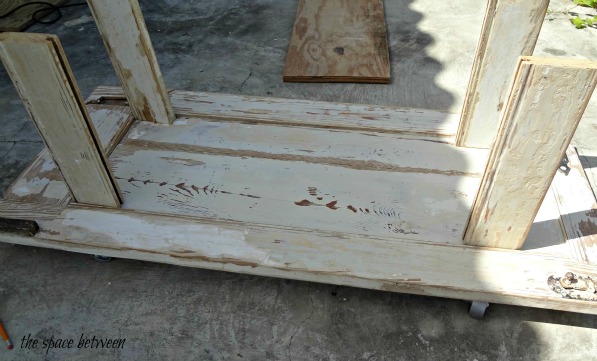 And here's a bit of useful assembly info.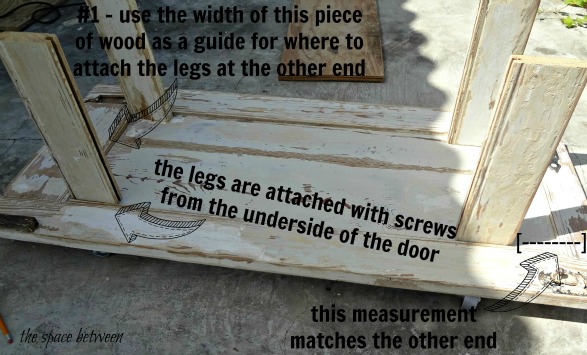 And my favorite tip that I have to remind myself over and over, and over.
TIP!!! Drill pilot holes in any area you need to screw that could be unstable. Every. Single. Time. Just do it! It saves time in the end. Promise.
As with most projects, it's just me around here, with my own two hands. I knew it would be a bit of a balancing act to try to get the 4 legs attached to the first part of the door. The pilot holes save my sanity. Seriously.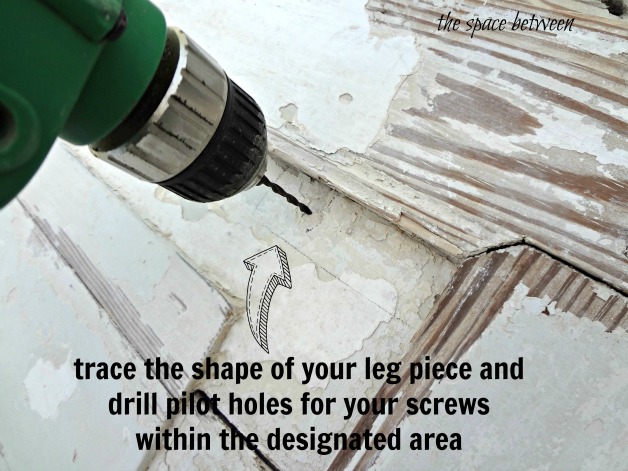 Run a bead of glue on the end of your leg piece, start the screws in your pilot holes, balance the other end of the soon-will-be-a-coffee-table on something about the same height and screw 'em in.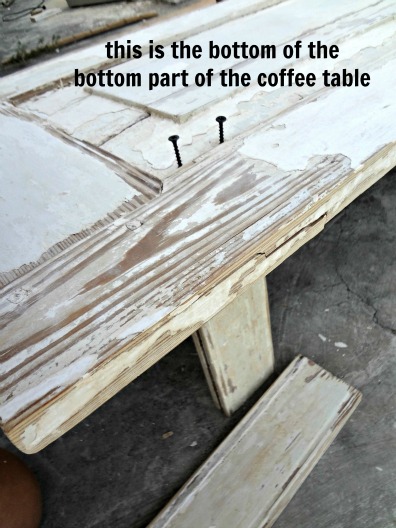 Once all 4 legs were attached, I just measured inside from the edge an inch and added the 4 casters lined up with each leg. Then flipped this whole contraption over … and here we are.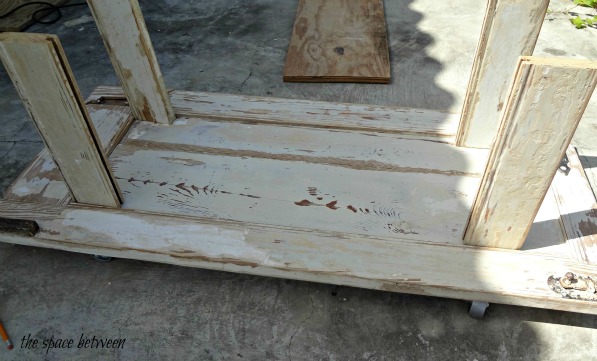 Make sense so far?!?
I chose to go just as easy with the top part and just repeat the previous steps …
… put the top door piece on top of the legs …
… do some minor measuring to make sure they're pretty much in the same positions as they are on the bottom door piece …
… draw the templates right on the top of the coffee table where the legs will be attaching to the underside (pencil marks sand off like a charm) …
… drill pilot holes …
… GLUE each leg NOW … once even one leg is attached you won't be able to lift the top to glue the others.
Seems so common sense-like now that I'm pointing it out as rocket science, but I learned the hard way for sure.
Even though I was going to be screwing right into the top of the coffee table, I was hoping to hide the screws … here was the plan.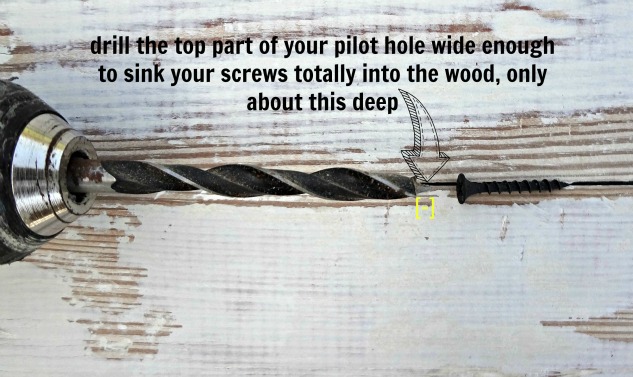 And you may end up with this.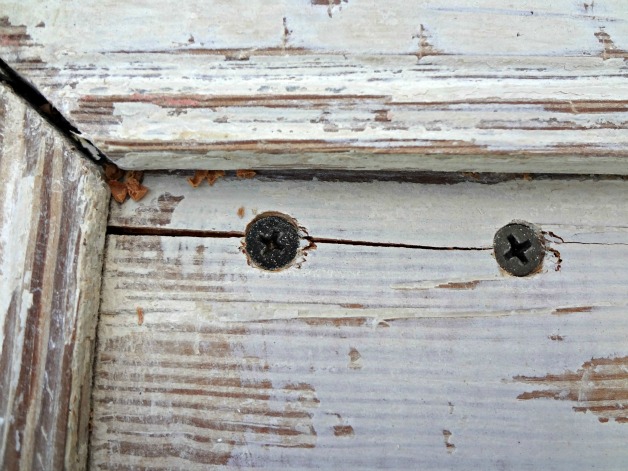 Yeah, that's a new crack. But what's the use of working with old wood if you're not going to embrace a new crack or two? :) #intentionalimperfectionismyspecialty
And, after a little homemade wood putty could look like this.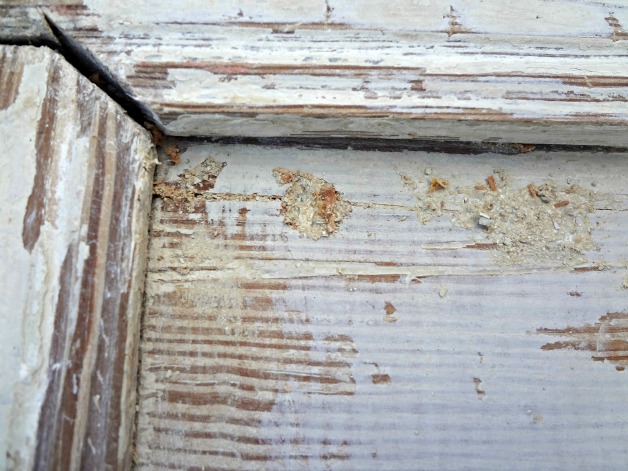 And after a little hand sanding, could look like this.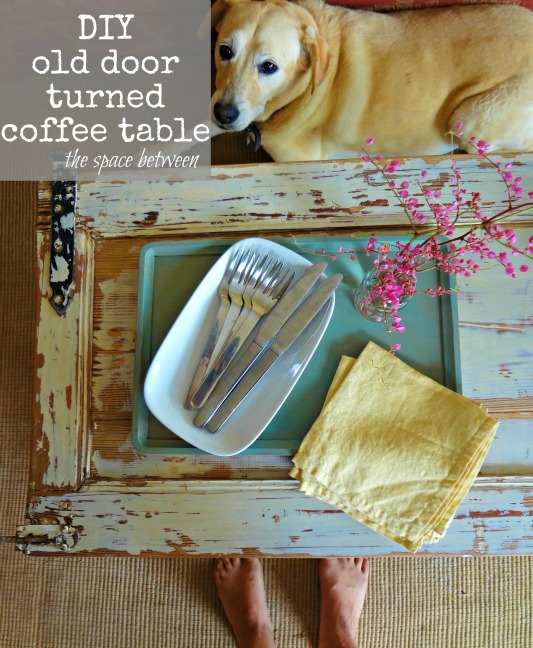 You can see them if you're really looking, but they fit right in on the decrepit old door coffee table and haven't bothered me one bit. Two points if you noticed. :)
And a close up of one of the swivel casters …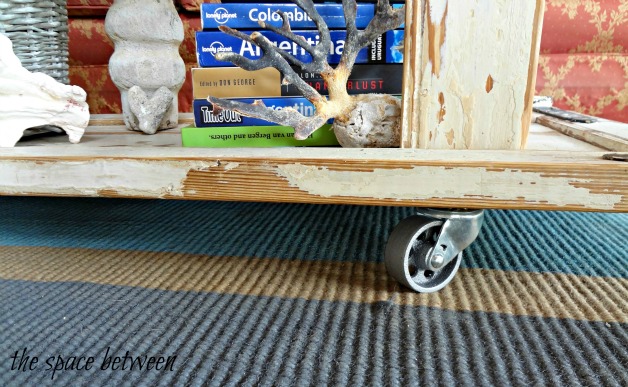 And here is where I was going to have all kinds of awesome new shots of the new coffee table taken with our new camera … but a couple of things happened.
We still have these awesomely ugly couches … and a bad backdrop does a bad picture make.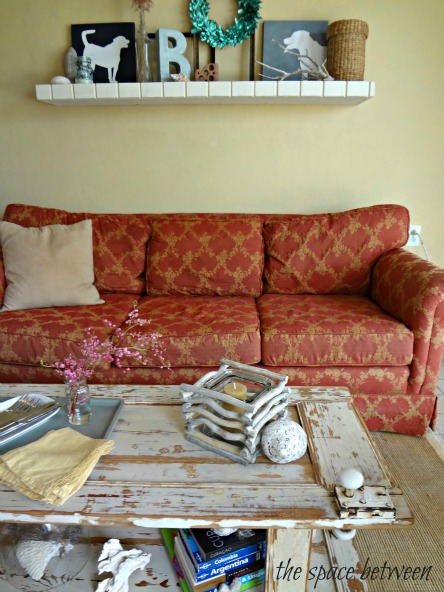 And I only took real life pictures … didn't realize you could actually see our mess of cords coming out the top of that basket. And, for real, we need a better cord solution. It is a technological jungle in that basket.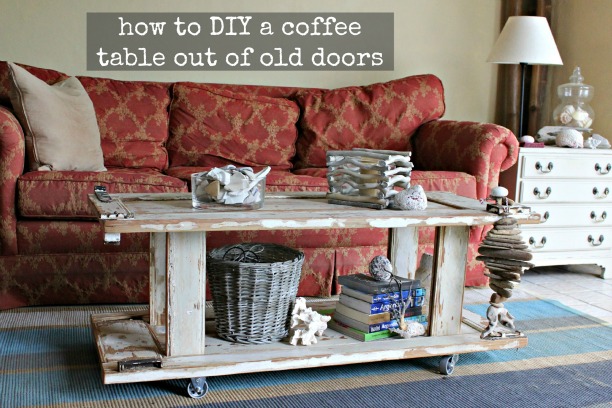 There you have it, our new favorite piece of furniture. She's definitely the focal point of the living room now, and a solid transition in a new direction. Thank. The. Lord! :)
If you want to see a totally different, yet equally cool, spin on an old door turned coffee table you should check out what Rita and Cane did here.
And, here you can see the before pics in all their glory and hear how I got it from a chipping mess to a sanded mess masterpiece. And here's the story of my husband's first reaction to the project.
Do you have a favorite project of all times? Or is it forever shifting? What's your coffee table made out of?
This post contains affiliate links.
Want to receive our posts in your inbox? Just enter your email address here! :-)
... let's stay connected ...