Well, well, well.  How have you all been?
I can not even begin to express how wonderful my experience at Haven was.  And, I've mentioned this to a few of you already, but I am not really your squealing, easily excitable type of girl.  I'm much more the roll-my-eyes-at-all-you-squealing-fools type. So, I really had no idea what to expect from a blog conference, but believe you me, like my buddy Kelly, I am now totally going to become a Superblogger.  ;)
But, I've never really wanted this blog to be about blogging so I put together a little round-up of my overall experience that I hope will be fun for all.  I present to you: The Haven Lists of 3.
3 Most Relatable Speakers
1 - Beckie from Infarrantly Creative – Let me just tell you, if you ever have the opportunity to hear this gal speak DO IT!  She spoke about revolutionary ideas regarding advertising on the blog and she was inspiring, motivating, liberating and so passionate I almost she couldn't stay in her seat.  And, at the risk of sounding just a teensy bit creepy, she is a total babe!!
2 - Sherry and John from Young House Love – They were the key-note speakers to open the conference and they were fun, funny and full of life.  They play well off each other, aren't afraid of a little self deprecating humor and every bit the sweethearts that we imagine them to be when we envision sitting around their new kitchen peninsula chit chatting away about our next projects.  Oh, wait … we don't do that?  Guess that's just me.  ;) (Apparently John and Clara weren't as into this photo op as I was.)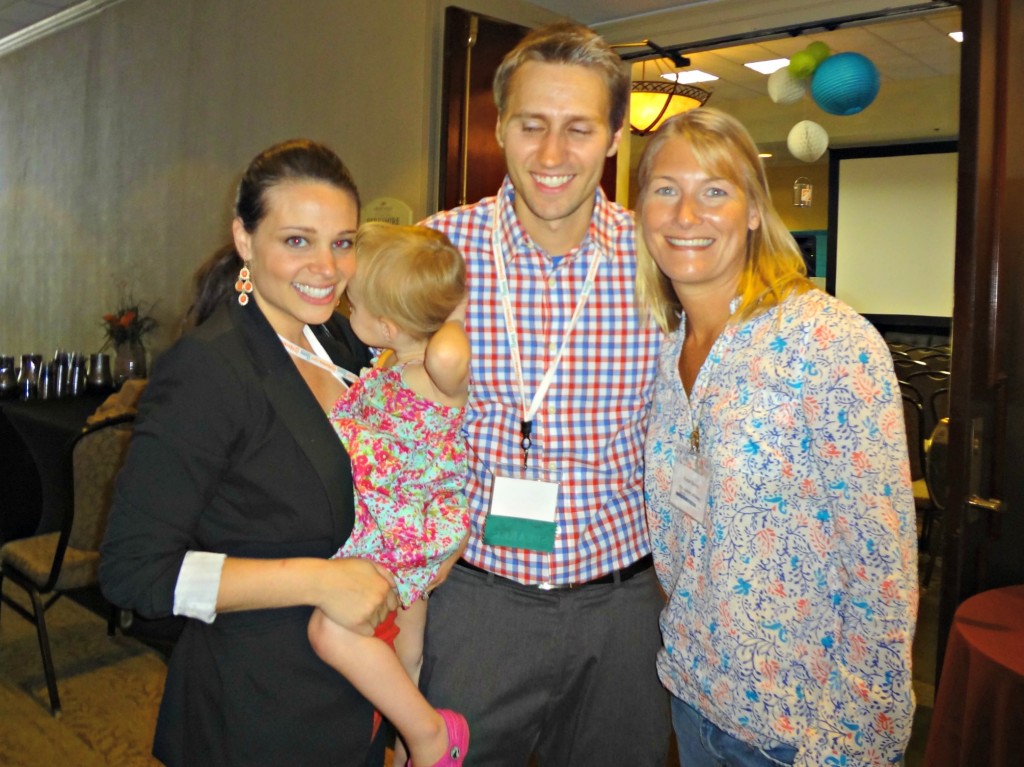 3 - Sarah from Thrifty Decor Chick – She spoke about tips on growing your blog as well as advertising and she came across as my kind of gal.  And, I practically tackled her after a session we were attending together (because I do that, attend 'sessions' with Thrifty Decor Chick) to let her know that she was the very first blog I read and that I used to live in Indy (because I could tell she was dying to know that info) and she was very down-to-earth, real, no frills, say what you mean and mean what you say and then blog about type of personality.
3 Smartest Travel Decisions
1 – Meeting someone at the airport – It was so nice to not have to walk into the somewhat overwhelming opening reception room for the first time all by my lonesome.  A HUGE thank you to Jessica from Decor Adventures for waiting at the airport for my delayed flight to arrive.  (And for all of the awesome blog talk at the end of the day!)
2 – Taking the train from the airport to the hotel – $6 round trip vs $120 round trip for a cab.  YES Please!!!  And sorry to all of you a little lighter in the wallet because of the cab ride, I heard the traffic was a be-ach.  ;)
3 – Wearing my everyday clothes – I'm a casual kind of gal and I'm so glad I didn't put any pressure on myself to try to cute-it-up for the masses.  It wouldn't have worked, for one, and, two, I didn't have to worry about if my new pencil skirt was tight in all the wrong places or if I was going to fall off my heels since I wore my fave flip flops.

My 3 New BFFs (not that they know it)
1 and 2 – The East Coast Creative girls, Jess and Monica.  These girls could not have been more approachable, informative and just down right pleasant to be around if they wanted to.  And, I swear, it is a total coincidence that I kept running into you guys around the hotel, and on the vendor walk, and in the conference rooms, AND across the street from the hotel.  Seriously!  :)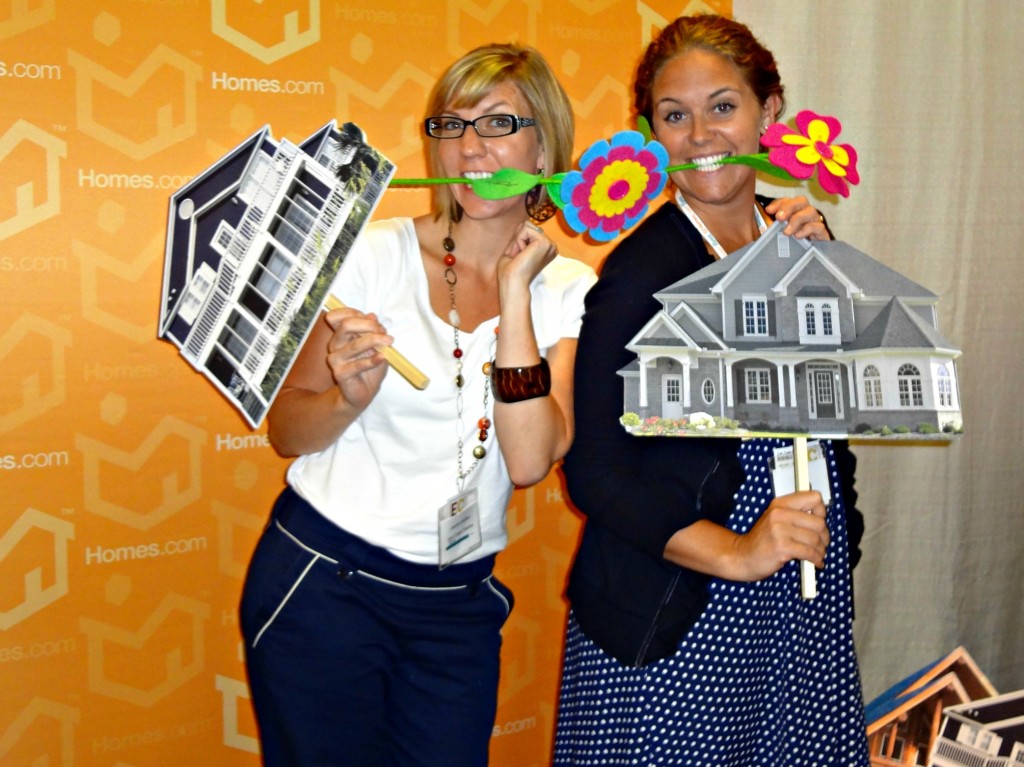 3 – Anna from Directions Not Included.  We share a tendency toward potty mouth, a love of drinking wine and we have uniquely similar, yet totally different love stories.  What's not to love?  :)
3 Most Embarrassing Moments
1 – Having to explain to Every. Flippen. Sponsor. that I didn't put my name on my business cards. #DIYfail
2 – Trying to give the super sweet Jennifer from Celebrating Everyday Life my card twice. I think I was just on "introduction overload".  Luckily she took it in stride and never made me feel like more of a moron that I already did.  Thank you for that, Jennifer!
2a – I realized when I got home that I had exchanged business cards twice with Chelsea from two twenty one.  But, since neither of us realized it at the time no harm, no foul.  Right?!?
3 – Now, this picture really needs no explanation.  It was all I could do to not go back all creepy-stalker-lady-like and say 'hey model Layla from The Lettered Cottage, would you mind redoing that picture we just took … and could you not smile so cute, and have your hair so perfect and look so awesome and maybe this time I'll foof my hair before the pic and open my eyes a little so I have a chance of not looking like a total wig nut next to you?  thanks'.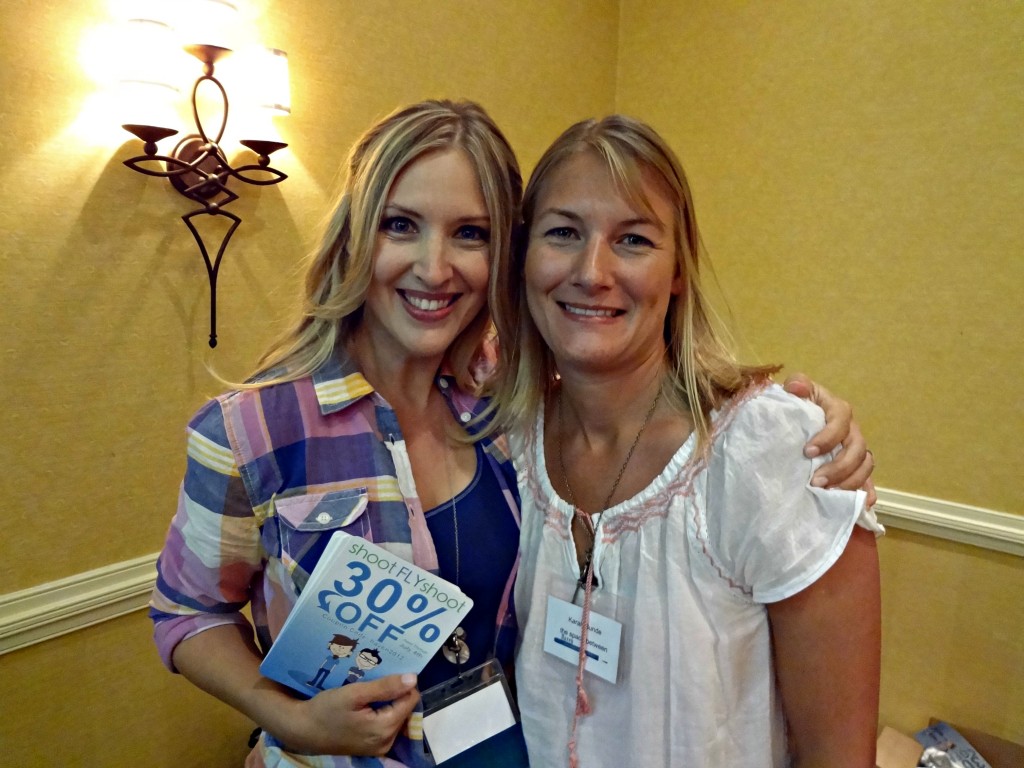 3 Fun Brand Conversations
1 – I was so happy to meet Miriam from hometalk.com in person.  She has been so supportive and helpful as I familiarize myself with the website which, by the way, is such a great resource for all things you might want to talk about your home. Thank you for your time, Miriam!
2 – Being in the Caribbean I don't have easy access to Annie Sloan's Chalk Paint so I was very intrigued by my conversation with Lisa from Annie Sloan Unfolded.  I am chomping at the bit to use my sample pot of paint!!
3 – Kate from Centsational Girl - OK, so I know Kate is a blogger and Centsational Girl is a blog, but our blog is our brand, right?!?!  And, can I just tell you that she let me totally interrupt her personal time so we could talk blog and blog conference for a few and I felt like I could have been sipping homemade Pinot Noir in her patio cabana.
(Clearly I make myself right at home in other bloggers' homes in my own mind.)
Now, I didn't realize I had come up with so many lists of 3.  Tune back in tomorrow for The Haven Lists of 3 – Part two, with topics like the 3 Swaggiest Swag Items, 3 Cool Business Card Ideas, 3 Biggest Surprises and 3 Post Blog Conference Confessions.
Part two has been posted here.
And tell me, if you were to pick just one list of 3 to describe your weekend what would it be?
Don't miss a minute of our Key West conch home renovation. Just enter your email address here for free updates right to your inbox! :-)
... let's stay connected ...