So I was waiting around at the deli for my Italian cold cut sub and my eyes started to wander.  It's one of those quiet little small town delis, and no one else is around … the employee who took my order is now in the back making my sandwich.
"and what to my wondering eyes should appear…"
Well, a bag of white chocolate and peppermint covered pretzels.  🙂
And, like any DIYer would think, I thought "I could totally make those".
Now, I'm no fancy cooker lady, and DIY in the kitchen is oh-so-not-even-remotely close to DIY around the house.  But apparently I am the arrogant kind of DIYer.  You know the type.
"Hi, I'm Karah and I like to make crafts and do home improvement so clearly I can cook anything I see in a bag in a deli."
Lucky for me, this little treat was so incredibly easy my 5 year old nephew could do it.  Which isn't really a fair comparison because he did have to explain to me the other day what a periscope is. #iamnotsmarterthana5yearold
Anyway, here is how I made some easy little white chocolate and peppermint pretzel sticks and still have enough kitchen prowess left over to whip up some dark chocolate and peppermint bark for a little Christmas party treat.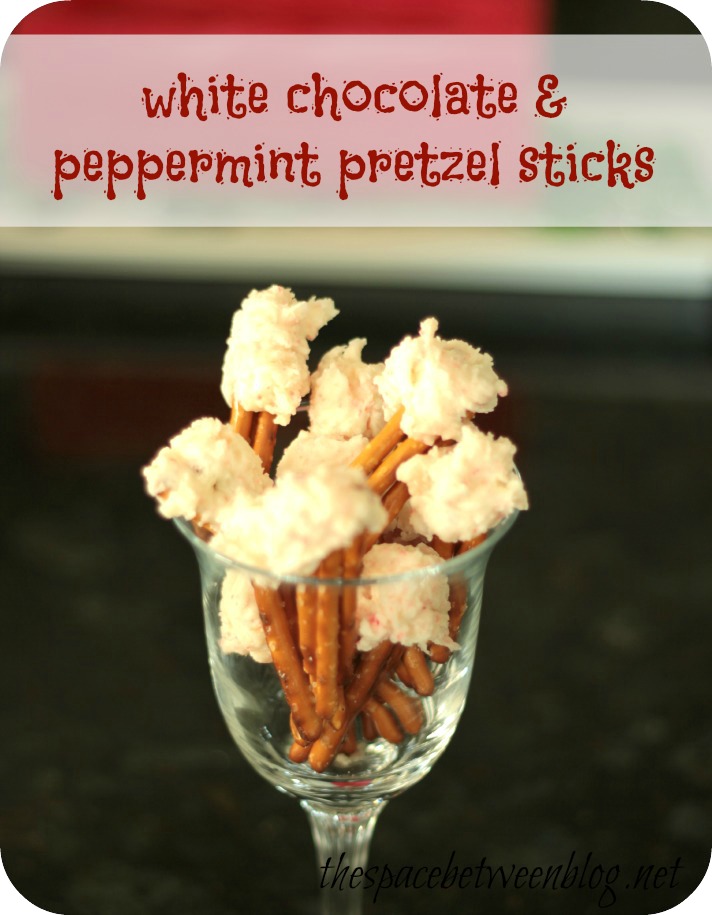 1. Crush up candy canes into small bits of peppermint.  I used this.
2. Fill a sauce pan half full with water, place bowl with your white chocolate chips over the top of the sauce pan and bring water to a boil. (the bowl I used was super thick so the chocolate took forever to melt … a basic Pyrex bowl, similar to this, would work best.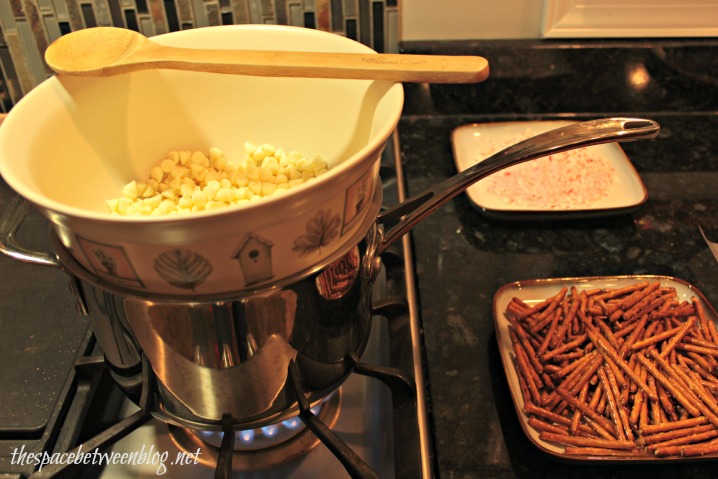 3. Stir melting chocolate occasionally and when the chocolate is melted, add your crushed peppermint and mix thoroughly.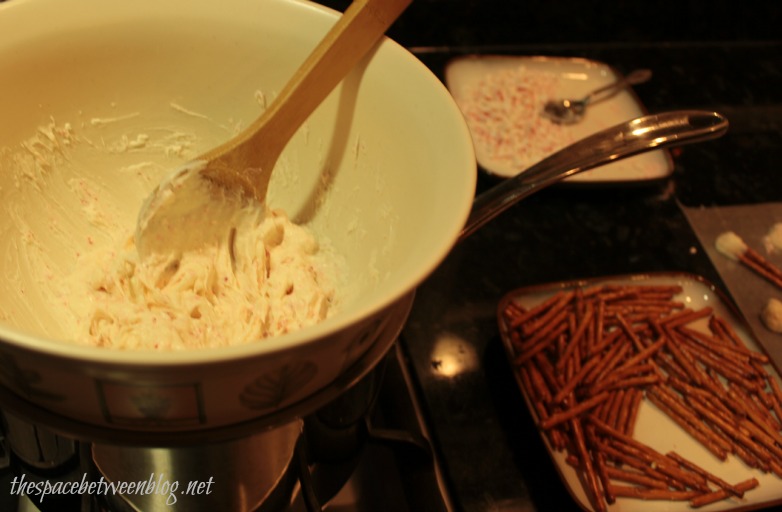 4. Dip pretzels in melted chocolate and peppermint mixture and set on wax paper to harden.
I used 3 pretzel sticks at a time and the ratio to sweet chocolate, minty peppermint and salty pretzel worked out pretty perfectly if I do say so myself.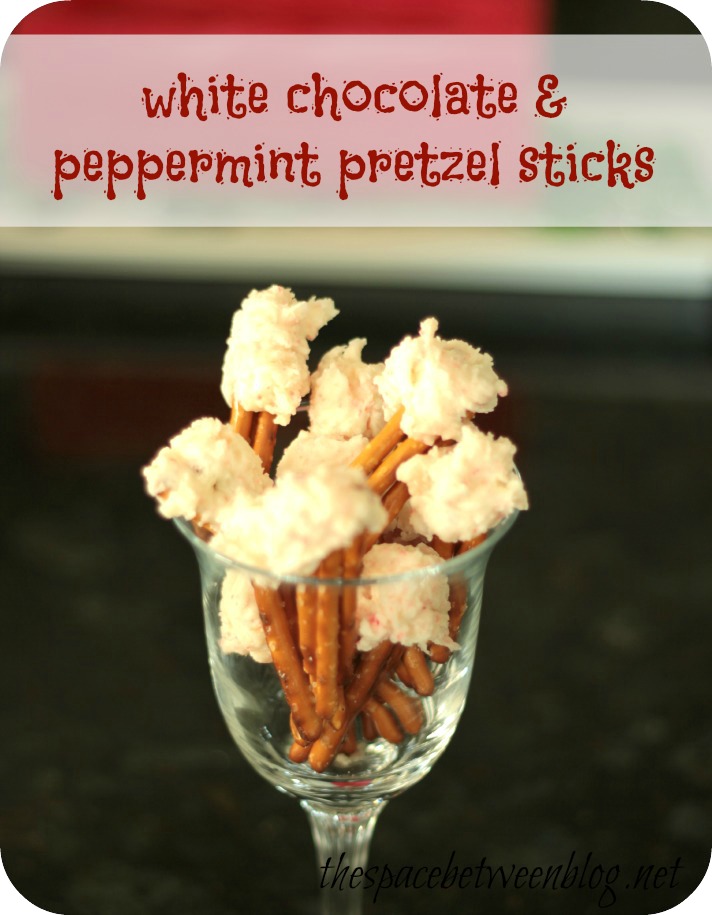 And then, because I had a bunch of crushed peppermint leftover and my BFF had a bag of dark chocolate morsels in her pantry we proceeded to melt the bag of dark chocolate, add most of the remaining peppermint and spread it out thin on a wax covered tray.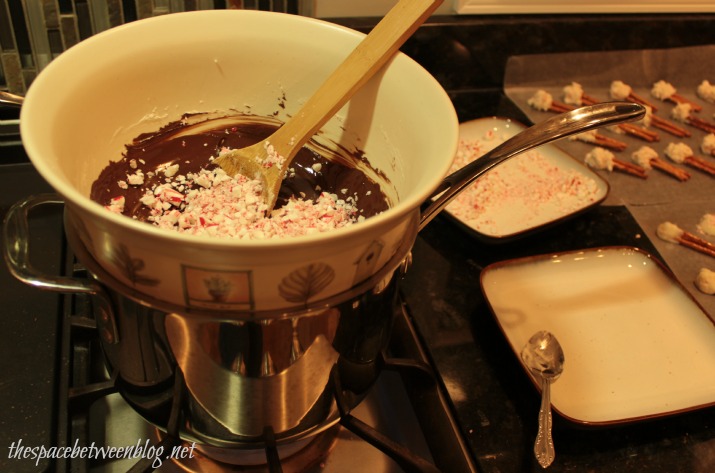 We sprinkled the remaining peppermint bits on top and put it in the freezer over night.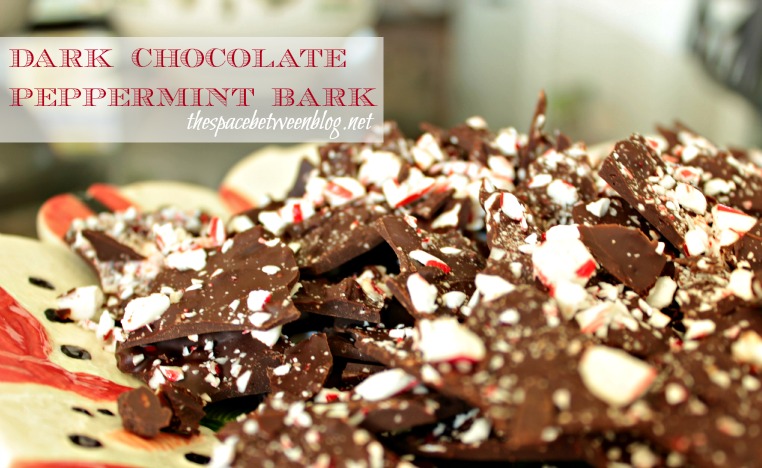 Right before the Christmas party we took it out and just broke it into random pieces.  We kept them pretty small because the dark chocolate was pretty rich.
Between both of these peppermint treats we used 10 candy canes crushed to bits.
And I don't know about you, but I'm not a huge peppermint fan.  I don't ever find myself craving a candy cane.  But these little bits of peppermint, mixed with chocolate were just enough.
And with the pretzels … I could have seriously eaten every last one of them.  Lucky for me, there was an 8 year old in the house who was thinking the exact same thing, so we saved each other from making ourselves sick.  🙂
So, maybe you're looking for an easy last minute treat for your Christmas celebration, or you need ideas to use all of the candy canes that are now hanging on your tree.  Either way, these are economical and easy enough to continue to support my theory that "I am Karah and I like to make crafts and do home improvement so clearly I can cook anything I see in a bag in a deli."
But, is this even really cooking?  Do you like peppermint?  Do you have a sweet tooth that rivals an 8 year olds?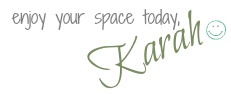 PS.  I really hope everyone has a wonderful holiday week.  Enjoy your time, hug those you love, enjoy a few peppermint treats and relish in the joy of the season.  Thank you all for sharing this space with me, that is a wonderful gift.  🙂
*post contains affiliate links